What Makes Pawsitive Canine Connection the Best in the Kitchener Waterloo Area?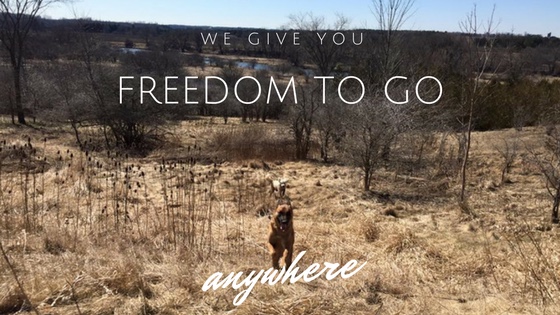 Pawsitive Canine Connection offers dog training, behaviour modification, rehabilitation and a holistic retail store and we are dedicated to helping people with pet dogs from the inside out. Our training is located in West Montrose ON and have worked with clients from Kitchener, Waterloo, Elmira, Fergus, Elora, Guelph and Baden and we also offer home delivery of our Raw Dog Food to these locations as well.
We work with all breeds, sizes and ages and address anything including basic obedience, walking on a leash, reactive dogs to severe separation anxiety.
We offer anything from group classes, one on one training, off leash training to day training to. For more information check out our training programs
About
Shanna has been around animals her whole life. From cats, mice, birds, horses to dogs.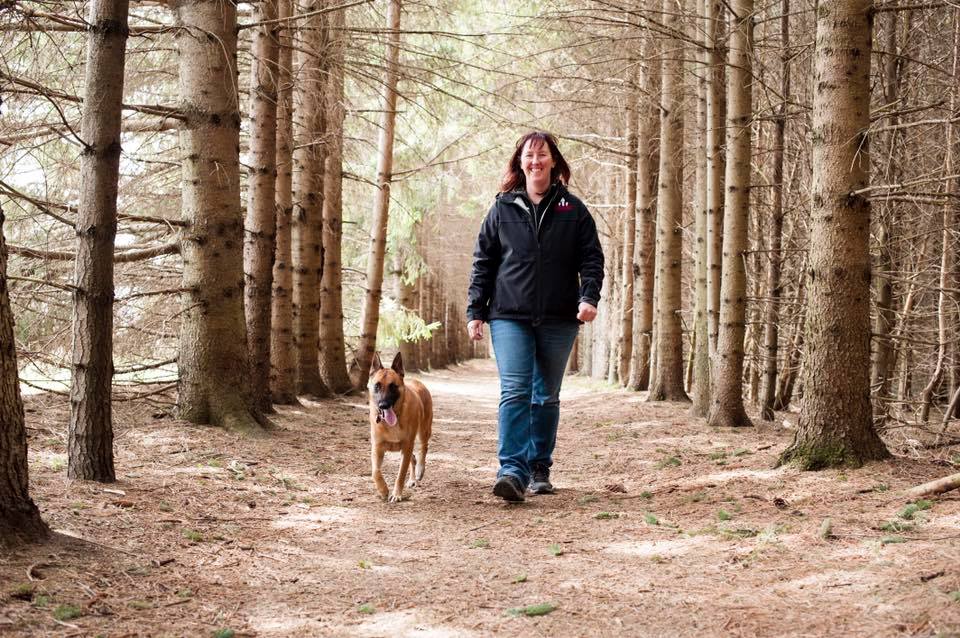 Her original goal was to become a horse trainer. After not finding a school she moved on and eventually got her first dog Ajha with her husband. After struggling with Ajha she was like most of her clients frustrated after working with numerous trainers and finding it didn't work. She was turned on to a TV show and decided to take  a course and become a trainer so she took an 8 week course and became a Certified Educator Trainer. Thus, Pawsitive Canine Connection was founded. However after getting her second dog Sakada she found that one didn't work for her so she was again on a journey to find something that worked for both. This is where she came across Balanced training in 2013 and found what was missing.
Shanna's Assistants
Ajha
 -My husband bought Ajha for me for Valentine's Day and was the best gift I ever got. Ajha has had a tough time medically but is always ready to go. Ajha will always be my best friend and the reason I started dog training because like many of the people I work with I struggled with her and certain styles of training. She made me realize dogs are not one size fits all.  If it wasn't for her I don't know what I would be doing now. And for that Ajha is amazing. On Jan 27, 2015 I had to say Goodbye to my best friend. She was a gentle soul, very calm and a great teacher to myself and other dogs. She blazed her own path and was always happy just tagging along as long as she got to chase some pesky critters. She is missed.
I LOVED YOU BEST- Jim WIllis 2012
So this is where we part, My Friend, And you'll run on, around the bend. Gone from sight, but not from mind, new pleasures there you'll surely find. I will go on; I'll find the strength, Life measures quality, not its length. One long embrace before you leave, Share one last look before I grieve. There are others that much is true, But they be they, and they aren't you. And I, fair, impartial, or so I thought, Will remember well all you've taught. Your place I'll hold, you will be missed, The fur I stroked, the nose I kissed. And as you journey to your final rest, Take with you this… I loved you best.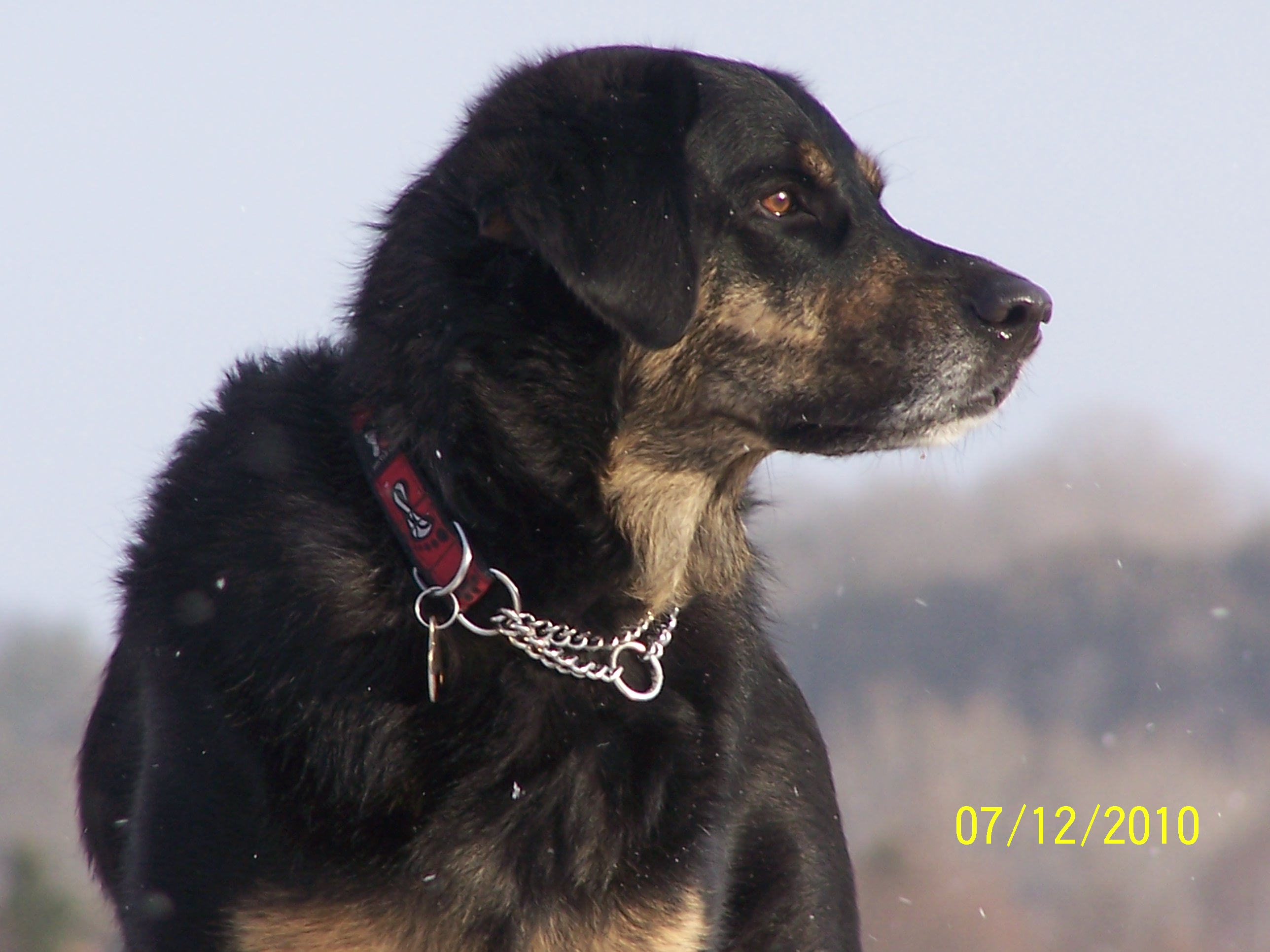 Sakada
is a Belgian Malinois . She is my partner in crime and  has brought a whole new spin to Pawsitive Canine Connection with our product lines, Puppy Classes, Agility and the socialization classes, as well as Scent Detection. Because of her we have gone more natural,  all products we carry are something we give to our own dogs.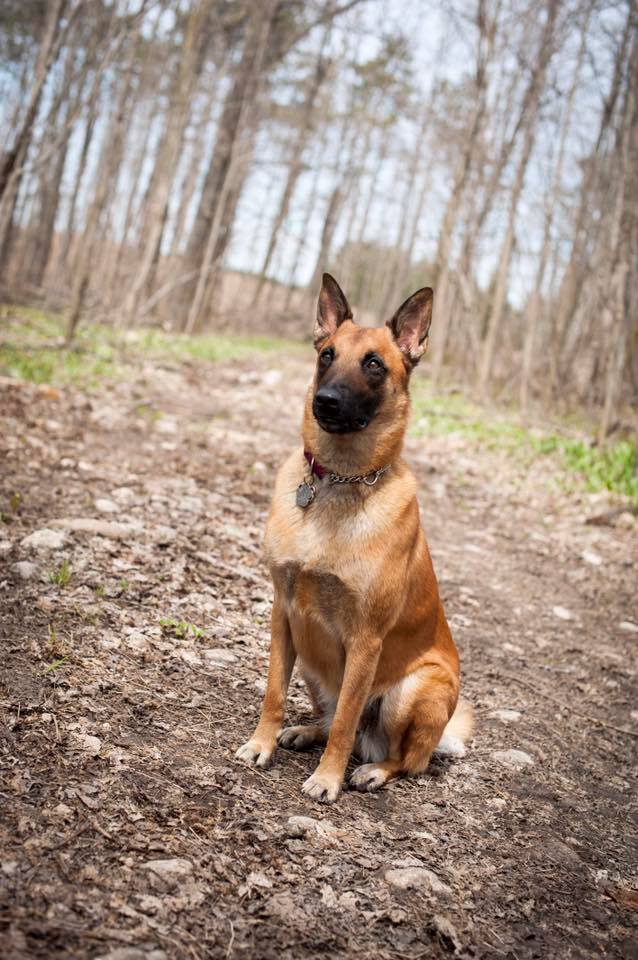 Traya
– is also a Belgian Malinois. She was with me to be fostered for 12-14 months for training to be a bomb detection dog, however I decided she as a good fit and have kept her. Extremely smart with lots of spunk and sass. She is going to turn out to be an amazing dog. She has already taught me a lot and has been one of my more challenging dogs.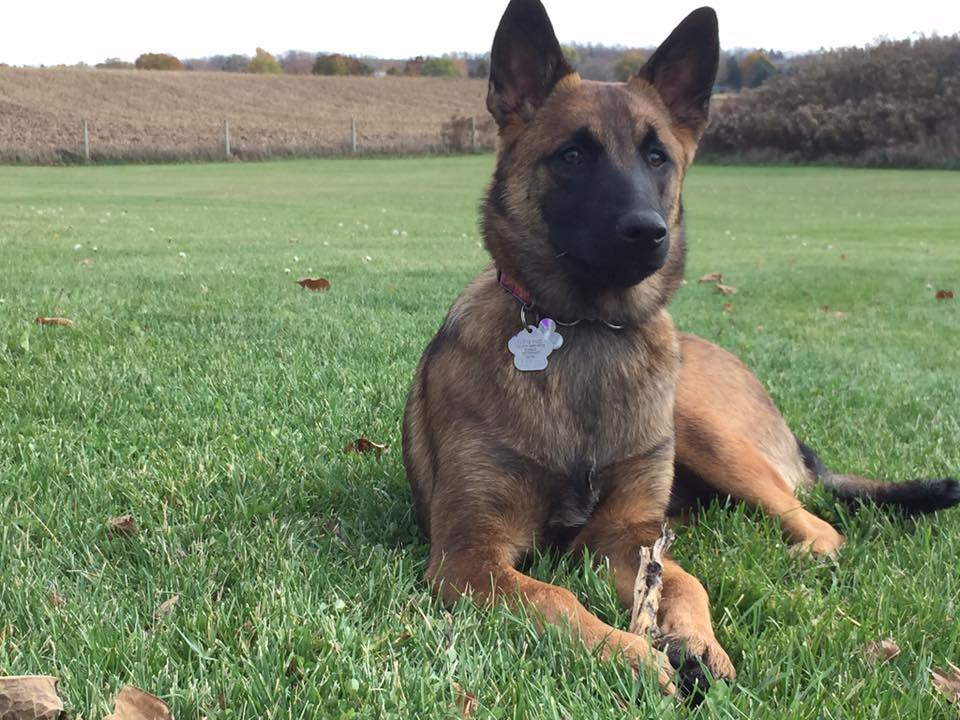 FULL TRAINING EDUCATION
Shanna has studied with some of the top trainers in the world.
Seminars, Workshops
Certified at  Hustle Up School of Dog Training (2010)
Wonderdog Canine Education- Prevention & Canine First Aid (2013 & 2016)
Monika Stuehler- Creating Calm &  Dealing with Difficult Dogs (2014)
Nelson Hodges-Canine Behaviour, Language and Rehabilitation  (2014, 2015, 2016), Canine/Human Relationship Institute (C/HRI) 9 Day Trainer Instruction Course (2017), Nelson Hodges & Dr Christine Koehler- 4 days of Human and Canine Psychology(2018)
Karen Laws- Freedom for you and your dog- Understanding Canine Communication Basics with a remote training collar (2014), Take the Lead to E-Freedom. E-Collar Education & Training School- 5 Day Certification (2016)
Duke Ferguson-Unleashed Potential 3 Day Workshop (2015)
Chad Mackin-Dogmanship Workshop & 5 Day Shadow (2015), Dogmanship & Advanced Socialization Workshop (2016
Monks of New Skete- Art of Living with your Dog (2015)
Ted Efthymiadis- Aggressive Dog Handling And Training Techniques (2015)
Gary Wilkes- 3 Days Clicker Workshop (2015)
Jeff Gellman- Hands-on Dog Training, on and Off Leash (2015)
Heather Beck, George Cockrell and Scottie MacConachie- TrainSmart WorkSmart Workshop (2015)
Heather Beck- 3D Workshop- Dealing with Difficult Daycares (2016)Tyler Muto- 2 day Dogmanship & Problem Solving Seminar (2016)
Nino Drowaert-Puppy University & E-Collar University (2017)
Jay Jack- Play as the way (2017)
Mark McCabe- Resolving Conflict in Human/Canine Relationships (2017)
Linda Kaim- Puppy Primer (2017)
Online
Michael Ellis- The Electric Collar Part 1(2015), The Electric Collar Part 2 (2015), The Power of Playing Tug (2015), Principles of Dog Training (2016), Principles of Dog Training 2 (2017), Raising a Puppy (2017)
Ed Frawley- Remote Collar Training for Pet Owners (2015)
Koehler Method of Dog Training 10 week course. (2015)
Duke Ferguson- Dog Training Genesis Online Program (2015)
Ivan Balabanov- Possession Games (2016), Obedience without Conflict DVD 1,2,3,4 (2016)
Mark Keating- Relationship Games (2016), Teach the Touch Pads (2016)
Robin McFarland- Just Right- A Step by Step Guide to Remote Collar Dog Training (2016)
Forrest Micke- Teaching Engagement Skills (2016), The Heeler's Toolbox/Beginner (2016),  Heeler's Toolbox/ Intermediate (2017),  Heeler's Toolbox/ Advanced (2017)
Tyler Muto- Leash Reactivity: A Comprehensive Approach (2016)
Ted Efthymiadis- He's Not Friendly- (2016)
Ian Dunbar- Growl Class - A Workshop Demo for Reactive Dogs (2017)
Meaghan Karnes- Collared Scholar- 7 Days of Play (2017)- 8 Weeks to Engagement(2017) Focus Heel for Competitive Dog Sports (2017) Puppy Raising 101, Play with your food, 7 days of play, 7 day fitness
Brenda Aloff- The Engaged Dog (2017)
Fenzi Dog Sports- Management for Reactive Dogs (2017)
Mike Ritland- Team Dog 12 month course. (2017)
Nick White- Off leash K9 Training- 3 Month training (2017)
AbsoluteDogs- Pro Dog Trainer Program, Loose Leash Games, Naughty But Nice, Naughty But Nice Live, Boundary Games (2017)
Conferences
Hustle Up Conference- 2011( Safety, SAR, Media 101)
Hustle Up Conference-2012( perimeter training, hiking/climbing with your dog)
International Association of Canine Professionals- 2015
SCENT DETECTION EDUCATION
Beginner Scent Detection- Nathan Clarkson
Advance Your Skills in K9 Scent Detection- Sherri Hall
Advanced Scent Detection- Nathan Clarkson
Studying with Nathan Clarkson to offer classes.
Accredited Training Facility Through the Canadian Sport Scent Detection Federation
Beginner Titled
Paul Orcutt-Green Raising Seminar( explosives detection)
AGILITY EDUCATION
Greg Derrett- Agility Foundation,
Greg Derrett- On Course to Excel,
Greg Derrett-  Great Dog Great Handler The winning Combination,
Greg Derrett- Great Dog… Shame About the Handler
Linda Barton- Jump Clinic
Linda Barton- Jump Stars Clinic
Jess Martin- Handling Seminar
NUTRITION EDUCATION
Raw Roundup by Dog Naturally Magazine- webinar- (2014)
Natural Canine Health Symposium 2014- webinar- Dog Naturally Magazine ( 2014)
Raw Roundup- Dog Naturally Magazine ( 2015)
Big Country Raw- Raw Expert Training Program (2015)
Raw & Allergy Seminar- Matt Bonanno (owner of Iron Will Raw) & RVT Amanda Adamiak (2016)
ORGINIZATIONS I'VE BEEN INVOLVED WITH
Founding member of the Woolwich Dog Park Committee
Woofwich Pet Show Organizer
Committee Member for The Canadian Cancer Society Bark for Life KW
Member of The Canadian Sport Scent Detection Federation.
Professional Member of The International Association of Canine Professionals.
Foster for Friendly Giant Dog Rescue
 DogLoversDays
Finding Them Homes- Home Visits
WRAC MEMBER- DVG
Laura has an incredible heart for animals. Having been raised with everything from aquatic life, reptiles and amphibians, to birds and mammals - she is completely comfortable around all animals. As a little girl Laura began dog walking - starting off with her neighbours border collie mix. It wouldn't be until almost 15 years of walking had passed - that she would be able to adopt a dog of her own; Nymeria. Having walked many different dogs of different temperaments and sizes for numerous years - Nymeria was the first dog that proved to be a real challenge. That is what brought Laura to Pawsitive Canine Connection in 2016 and it has been a journey ever since.
Nymeria is a 4 year old Rottweiler x Mastiff - adopted at age 2 with serious behavioural problems. Through training at Pawsitive Canine Connection I was able to completely transform my dog into a loving companion. I saw the potential in her day one - and PCC helped me get there. "The dog you have today, doesn't have to be the dog you have tomorrow."
To learn more about how Pawsitive Canine Connection can help enhance your relationship between you and your dog, contact us here